The Institute of Quarrying Hong Kong Branch is a professional body which unites people of the industry throughout Hong Kong and PRC.
Latest News
Annual Dinner 2013
23 November 2013
The 41st annual dinner of Institute of Quarrying Hong Kong Branch was held on 23 November 2013 (Saturday) at Harbour Grand Hotel Kowloon. The theme was "CandyLand" following on from Candy Crush which we are all only too aware of !
The pre-dinner cocktails were mixed with various entertainments and with decoration of candies. Winners got a bag of mixed candies as prizes. Mr. David Hogan, Branch Chairman, gave the welcoming address and also thanked our many sponsors for their generosity in support of the evening. He also paid tribute to the Branch Committee for their continued hard work over the year to make the event such an outstanding success. The evening again concluded with the ever popular lucky draw and the DJs to rock the dance floor.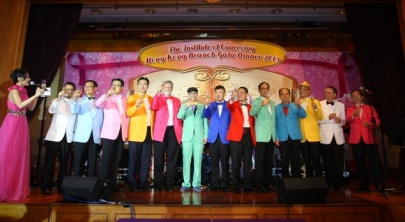 Photo : Committee toasting
IOQ (Australia) tour group hosted by IOQ HK Branch
23 September 2013
On 6th – 8th August 2013 the IOQ Hong Kong Branch hosted a 'Young Members Network' tour group from the Institute of Quarrying Australia. Under the guidance of Branch Chairman, Mr David Hogan, the tour group was hosted to a series of technical quarry visits in Hong Kong and Guangdong Province, China, as well as being entertained at informal social gatherings to exchange experiences with other Branch and Committee members.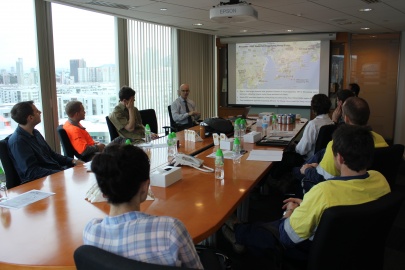 Photo 1 : Branch Chairman Mr David Hogan briefing the 'young members network' tour group
As well as visits to KWP and Lam Tai Quarries in Hong Kong, a visit was also made to Heidelberg Cement's JV quarry in Guangzhou which is an open cut below ground rock extraction producing limestone for their cement plant.The primary impact crusher produces 1,500TPH which is further processed before downstream clinker production through a rotary kiln.
Photo 2: Visit to Guangzhou Heidelberg limestone quarry control room
A further visit was made to Tai Shing quarry which is one the biggest granite production quarries in Guangdong Province, producing some 1.8MT per month of construction and concrete aggregates.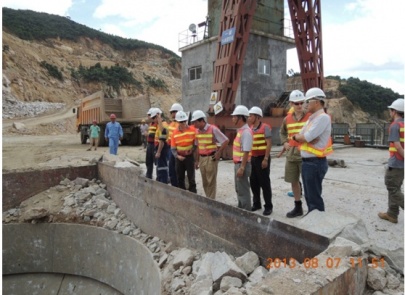 Photo 3: Sharing maintenance experience on the gyratory crusher operation
Tai Shing quarry has 1x 3,000TPH and 2x 2,000TPH gyratory primary crushers, andover 50 units of 55T capacity trucks for haulage from the quarry face to the primaries.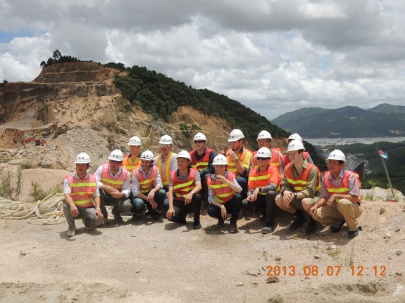 Photo 4: Group picture at Tai Shing Quarry
The tour group also visited Huidong Quarry (HDQ) in the PRC, a joint venture operation between K.Wah Construction Materials and Alliance Construction Materials. HDQ has recently commissioned a 1,000TPH 4-stage plc controlled state-of-art crushing plant, with fully 'built-in' integrated health, safety and environmental controls and systems.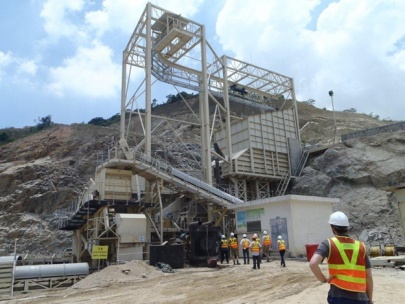 Photo 5: HDQ Primary Crusher
During the site visits the tour group was able to share their Australian quarrying operating experience with the local quarry operators; a whole range of issues were discussed from how to improve maintenance of crushers, blasting practice, load & haul efficiency, to environmental and safety best practices.
The IOQ HK Branch wishes to express its gratitude to the Hong Kong Contract Quarry Association members, quarry operators in the PRD, their staff and all IOQ members that contributed to make the 'Young Engineers' tour group from the Institute of Quarrying Australia, such a great success.
Lunch Presentation - Machine Management in Quarry Site
26 June 2013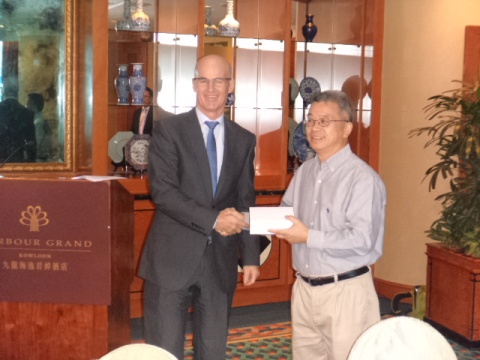 A technical lunch presentation was held on Wednesday, 26 June 2013 at the Harbour Grand Kowloon Hotel, the topic of the talk was Machine Management on Quarry Site. 36 members and guests were present to hear an excellent and informative talk given by Mr Richmond Chau. Mr Chau joined Caterpillar (CAT) in 1974, and following his retirement a few years ago, continues to work for CAT on a consultancy basis. Mr Chau shared his experience and techniques in mobile equipment management; the main topics he touched on during his presentation included safety, preventive maintenance, site condition, equipment operation and their factors affecting fuel consumption. He also introduced some of the new CAT software 'tools' such as product link and SOMA (Site Operation and Management Advisor) which are designed to help operators achieve the aim of "low cost & high production"!
Following a lively Q & A session, a vote of thanks was given by Mr Mark Cheng, and IOQ HK Branch Chairman, Mr David Hogan, presented Mr Chau with a souvenir.
Mr David Hogan also welcomed our five newly elected members/associates to the Branch, and presented them with their IOQ Certificates. The new members are:
| | | |
| --- | --- | --- |
| Eric Tse | Member | AHK Aggregates Ltd |
| Joseph Wu | Associate | AHK Aggregates Ltd |
| Edward Yip | Associate | AHK Aggregates Ltd |
| Kelvin Kuo | Member | TMK & Associates Ltd |
| Paul Chang | Associate | Caterpillar Asia Pte. Ltd |
Lunch Presentation - Redevelopment of Quarries
26 March 2013
The technical lunch presentation on Redevelopment of Quarries was held on Tuesday, 26 March 203 at Harbour Grand Kowloon Hotel. The talk attracted 37 members and guests to attend.
Our guest speaker Mr Ian Milne, Design Director of Atkins started his presentation by introducing background information of his company. Then he presented a featured quarry redevelopment project which was being carried out by Atkins near Shanghai. That was a hotel being built at a quarry site. He introduced the technical feature of this project and how the hotel was successfully adapted to the surrounding environment. He also shared with us for different approaches of regeneration of quarry environmental.
Lastly, the Hong Kong Branch Chairman Mr David Hogan announced to everyone the newly elected committees and advertised the branch activities in the coming year.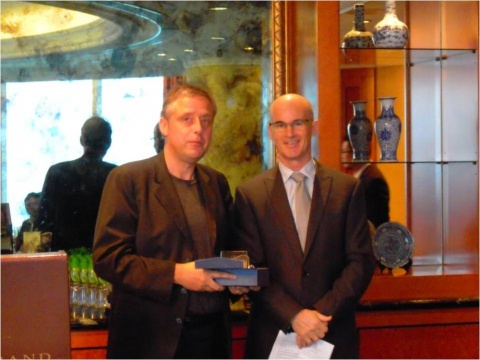 Year 2013/2014 Committee Members
11 March 2013
The 40th Annual General Meeting was held today Monday, 11 March 2013, the Nomination Committee for the Year 2013/2014 was formed, please refer to the Committee page for details.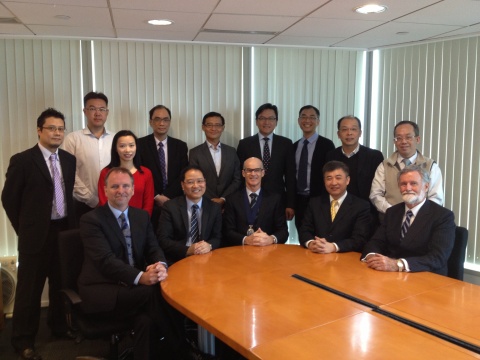 Hong Kong Branch souvenir
15 October 2012
Institute of Quarrying - Hong Kong Branch computer bag / briefcase is now available !!!
This computer briefcase features a large main compartment with plenty of organizing space with small logo on the front. Enough space to fit a laptop, separate pocket for paperwork and additional extra pockets for mobile phone, pens etc.
- Made of black nylon.
- Detachable shoulder strap and a handle to carry "briefcase" style.
- Main zip compartments.
- IOQ logo printed on the front.
- Measures approximately 15" W x 12" H x 2.5" D.
Price : HK$100 each while stocks last
Email us with your order or for more information.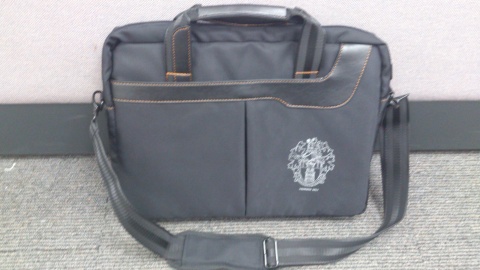 Events
29 November 2014 (Saturday)
IOQ Annual Dinner 2014
Disneyland Hotel - Lantau Island