The Institute of Quarrying Hong Kong Branch is a professional body which unites people of the industry throughout Hong Kong and PRC.
Latest News
Hong Kong–Zhuhai–Macao Bridge (Main Bridge Visit)
15 September 2017
The Institute conducted its first field visit of 2017 on 15th September, to The Hong Kong – Zhuhai – Macao Bridge (HZMB), by kind arrangement of the main contractors, Dragages-China Harbour-VSL Joint Venture.
The visit was very well supported with 38 members and non-members enjoying the unique experience of viewing the partially completed road crossing, before it is open to the public in late 2018. The event started from Tung Chung MTR station at 8:30am and ended at 12:30pm with a superb buffet lunch at Essence Restaurant, Novotel Citygate Hotel.
Situated at the waters of Pearl River Estuary this mega-size sea crossing linking the Hong Kong Special Administrative Region (HKSAR) to Zhuhai and Macao Special Administrative Region represented a lifetime opportunity for members to better understand the challenges in constructing such a mega project.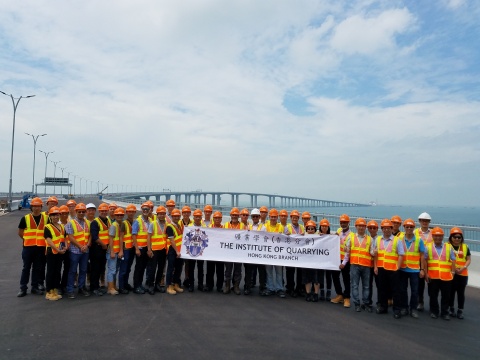 The HZMB Main Bridge runs from the artificial island of Zhuhai to the east and west artificial islands with tunnel section bordering HKSAR boundary. The project has a 29.6 km dual 3-lane carriageway in the form of bridge-cum-tunnel structure comprising an underwater tunnel of 6.7 km and two large artificial islands for the tunnel landings west of HKSAR boundary.
The Dragages-China Harbour-VSL Joint Venture Project Director, Mr Chan Man, delivered a very informative power point presentation illustrating the design and methodology used to construct this complicated bridge, tunnel and artificial island, which included a reclaimed area land of 150 hectares.
The project involved the state of the art engineering methodology, advanced technology and equipment to make it work. After the Q&A session, members boarded a bus to tour the HK BCA and bridge deck. Construction works could be seen everywhere in the site but they were all well managed and effectively controlled, with good HSE and traffic control measures including a designated crew washing all vehicles leaving the site.
It was a very impressive and successful field visit and the activities organizing committee would like to extend their grateful appreciation to Mr Chan and all his Dragages-China Harbour-VSL Joint Venture team, who put a lot of effort to ensure our members had an enjoyable and unforgettable field visit.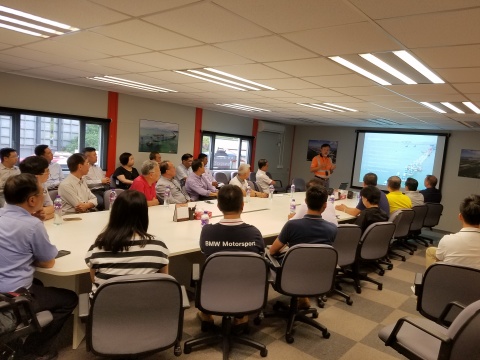 Lunch Presentation - Productivity & efficiency through technology and innovation
26 June 2017
On Monday 26 June 2017, the Hong Kong Branch hosted a technical lunch presentation at Regal Kowloon Hotel, with a topic on "Productivity and Efficiency through Technology and Innovation", which are always the core elements that operators are looking for in the quarrying sector. At the same time, technology is evolving every day at lightning speed, and while technology is changing the world around us it also needs to be embraced and adapted into modern quarrying practices.

To update the members on the latest technology for mobile plant, the Hong Kong Branch was delighted to receive a presentation by Mr Felice Stocco, Senior Systems Application Specialist at Caterpillar Inc. Melbourne, Australia. Felice shared with members his expert-level machine application and product knowledge, and how the latest technologies can increase machine efficiencies, improve operator safety, while reducing overall operating costs.

The presentation and networking lunch was very well received, attracting 39 members and guests. A vote of thanks and souvenir presentation was made to Mr Felice Stocco, by Branch Chairman, Mr. Alfred Chan.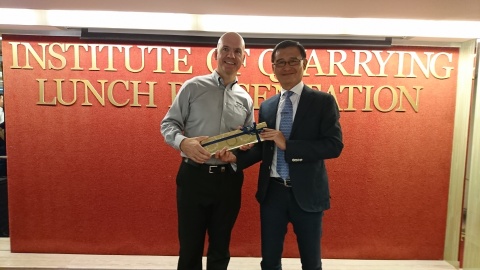 Year 2017/2018 Committee Members
6 March 2017
The 44th Annual General Meeting was held on Monday, 6 March 2017, the Nomination Committee for the Year 2017/2018 was formed, please refer to the Committee page for details.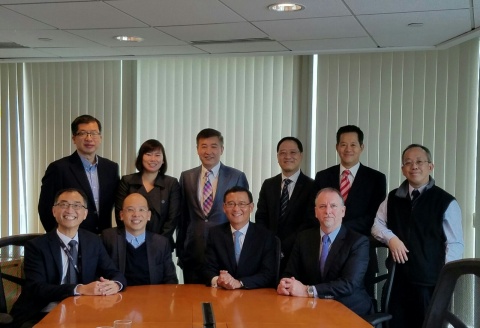 Events
11 November 2017 (Saturday)
Annual Dinner 2017
Kowloon Shangri-La, Tsim Sha Tsui
Grand Ballroom